In a March 5, 2014 Federal Register notice, the United States Postal Service® (USPS®) announced they will make changes in the delivery service standards for Standard Mail® Destination Sectional Center Facility (DSCF) rate mail, effective April 10, 2014.
Delivery Standard Changes
This service standard update changes the current three-day delivery standard for Standard Mail to four days for Standard Mail mailpieces that are eligible for DSCF rates and are properly accepted before the day zero Critical Entry Time (CET) on a Friday or Saturday. Essentially, this means that drop shipped Standard Mail that is accepted at SCF's before the CET's on Fridays or Saturdays will now see in-home delivery on the following Tuesday or Wednesday as opposed to the current Saturday through Tuesday delivery window. DSCF mail accepted at the SCF in San Juan, Puerto Rico which is destined for the US Virgin Islands or American Samoa would see delivery times change from the current three to four days to the new standard of four to five days for mail accepted prior to CET"s on Fridays and Saturdays. Keep in mind that these are delivery standards only, not guarantees of delivery time.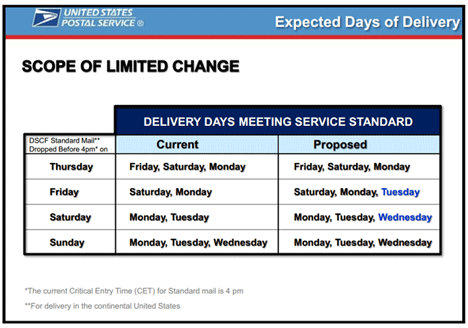 (Source WindowBook)
Managing change
The Postal Service is not always looking out for the marketer's best interest.  Many mailings are carefully planned to arrive at an SCF location on specific dates to help control the delivery of time sensative material.  Whether you are holding a private sale, or have a weekend only event, or do not like mail delivering late in the week or on weekends, this new rule will add another level of complexity when it comes to timing mail delivery.  To help manage the new USPS rule, we suggest some of the following ideas:
in-home date planning and in-home date requests that are included on the mail piece or any USPS documents
reviewing transportation and logistics planning
adding mail tracking to your mailings
using full-service intelligent mail
Additional information
More detailed information regarding this change, such as a PowerPoint presentation from a recent webinar and a Frequently Asked Questions document, may be found on the USPS RIBBS website.